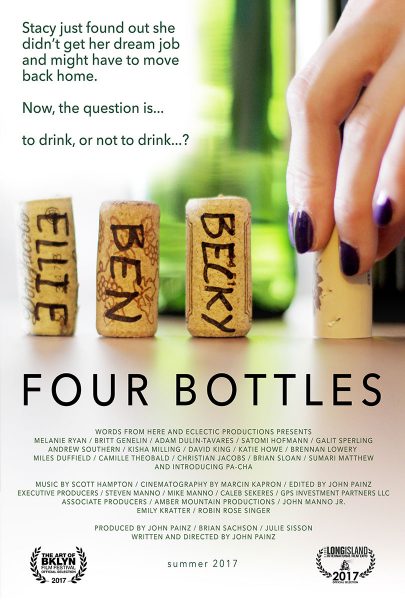 Title of Film: Four Bottles
Category: A feature (60 minutes or greater)
Director: John Painz
Producer(s): John Painz, Julie Sisson, Brian Sachson
Writer(s): John Painz
Runtime of Film: 82 minutes
Synopsis
Stacy has been living in the city for the last three years and just found out she didn't get her dream job. Now she has to decide whether she's going to stay in New York City or move back home to Wisconsin. Over the course of the evening she goes over to four different friends apartments to get some advice, but the only things her friends want to talk about is themselves.
Other Info:
Comedy
My film is a LONG ISLAND premiere
Filmed in Manhattan, Filmed in Queens, Filmed in Brooklyn
There is profanity in the film. It's definitely rated R.
Click on Photos to Enlarge

Tickets